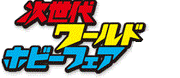 The Next-Generation World Hobby Fair (Japanese: 代iワールドホビーフェア, Dai Waarudohobiifuxea), also called World Hobby Fair, Next-Generation WHF, or WHF, is an event that sponsors video games and toys in the summer, year-end, and on New Year Holidays, usually held at Tokyo, Japan, but also at Nagoya, Osaka, and Fukuoka. The booths at the fair contain toys and videogames of many famous companies, like Bandai, Takara Tomy, Pokémon, and Nintendo. The Shogakukan anime Business Center Elementary School building is a booth that sponsors their comics and magazines. Competitions are held at the WHF too.
Involvement in Tenkai Knights
The 40th WHF (WHF Summer '14) featured Tenkai Knights merchandise, such as toys, comic books, Ayako Nakanomori's Get the Glory, and Tenkai Knights: Brave Battle on June 28 and June 29, 2014.
Gallery
External Links
Internal Links
Ad blocker interference detected!
Wikia is a free-to-use site that makes money from advertising. We have a modified experience for viewers using ad blockers

Wikia is not accessible if you've made further modifications. Remove the custom ad blocker rule(s) and the page will load as expected.