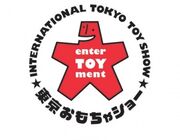 The Tokyo International Toy Show (Japanese: 東京国際玩具ショー, Tōkyō Kokusai Omocha Shō), shortly known as the Tokyo Toy Fair (Japanese: 東京おもちゃショー, Tōkyō Omocha Shō), is an annual event by the Japan Toy Association that sponsors toys of highly known and new franchizes in Tokyo, Japan, in June. The first Tokyo Toy Show happened in 1962, which at that time was called the Japanese Toy International Trade Fair. In 1977, the name changed to the Tokyo International Toy Fair. As of 1982, the name is currently the Tokyo International Toy Fair. The Tokyo Toy Show does allow access to the public and the press. Interestingly, in 2003, public access couldn't come because the toy market was tightening up and birth rate was lowering down, which meant that only people of the industry can visit. As of 2006, the Tokyo Toy Show is currently open to the public again.
Involvement in Tenkai Knights
The Tokyo International Toy Show of 2014, shortly called as Tokyo Toy Show 2014, sponsored toys of companies like LEGO, SEGA, Bandai, and Pokémon. For Tenkai Knights, a booth was held that had many different kinds of toys. At the front of the booth, there were two toy statues of Vilius X and Braven X.
Gallery
External Links
Internal Links
Ad blocker interference detected!
Wikia is a free-to-use site that makes money from advertising. We have a modified experience for viewers using ad blockers

Wikia is not accessible if you've made further modifications. Remove the custom ad blocker rule(s) and the page will load as expected.