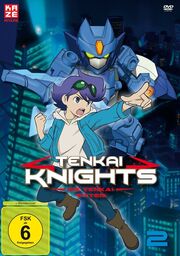 The second German DVD volume was released on July 25, 2014. It costs €11.99.
Official Description
Original
Alle für einen – und einer für alle!
Nur als Team können sie siegen und die Erde vor dem Untergang retten …
Wieder umziehen, wieder neue Freunde suchen – Schüler Guren hat es echt nicht leicht. Kaum angekommen, wird er schon dazu verdonnert, sich vom Klassenclown Ceylan die Stadt zeigen zu lassen. Als Guren auf ihrer Tour plötzlich eine mysteriöse Gestalt entdeckt, landen sie in einem seltsamen Laden und bemerken zwei merkwürdig erscheinende Steine. Diese besitzen magische Kräfte und haben die beiden auserwählt, die legendären Tenkai Knights zu werden und den Planeten Quarton zu retten! Von nun an können sich Guren und Ceylan in gigantische Roboter verwandeln und durch ein Portal auf den fremden Planeten gelangen. Dort müssen sie als Bravenwolf und Tributon gegen den bösen Vilius und seine riesige Armee kämpfen. An Ihrer Seite stehen Toxsa und Chooki alias Valorn und Lydendor, die ebenfalls auf ihre Schule gehen. Doch werden die vier Jungs dem gewachsen sein?
Bekannt aus der TV-Ausstrahlung bei YEP! auf ProSieben MAXX und jetzt endlich auf DVD  –  eine spannende Geschichte voller Action und gigantischer Roboter!
Translated (English)
Synopsis
Original
Guren und Ceylan haben Unterstützung bekommen – Toxsa alias Valorn und Chooki alias Lydendor. Dennoch müssen sie einige Niederlagen einstecken, denn der böse Vilius hat neue überwältigende Kräfte erlangt. Mit Dromus taucht auf Quarton zudem ein weiterer Gegner auf. Fast zeitgleich gibt es in Gurens und Ceylans Schulklasse einen neuen Mitschüler, den geheimnisvollen Gen. Ob er etwas zu verbergen hat?
Translated (English)
Guren and Ceylan got support - Toxsa aka Valorn and Chooki aka Lydendor. Nevertheless, they have to suffer several defeats, because the evil Vilius has acquired new daunting powers. Furthermore, with Dromus, a new enemy, appears on Quarton. Almost at the same time, there is a new transfer student in Guren's and Ceylan's class, the mysterious Gen. Whether he has something to hide?
Episode Summaries
Videos
Ad blocker interference detected!
Wikia is a free-to-use site that makes money from advertising. We have a modified experience for viewers using ad blockers

Wikia is not accessible if you've made further modifications. Remove the custom ad blocker rule(s) and the page will load as expected.