Tenkai Knights
Air dates
Japan
April 05, 2014 - March 28, 2015
United States
August 24, 2013 - September 06, 2014
Involvements
Studio
BONES
Licensor
Spin Master
Directed by
Mitsuru Hongo
Broadcast
Japanese Network
TV Tokyo
English Network
Cartoon Network
Number of episodes
52
Seasons
Previous season
-
Next season
-
Tenkai Knights
is a Japanese-Canadian anime series commisioned by Spin Master and Shogakukan Productions. 
Development
Edit
In May 2013 an anime subcontracting studio, Studio Wanpack, listed the at that time unannounced anime Tenkai Knights as a current project without revealing background information. The involvement of Studio Wanpack led to speculations that Studio Bones, which never had animated a children's anime before, also was involved. Almost one month later it was announced that Spin Master, which previously worked on the Bakugan franchise and after that failed with the French-Canadian co-production Redakai, comissioned the anime together with Shopro, which also is involved in several notable anime, like Duel Masters. On the same occasion, the American broadcast in Fall on Cartoon Network was announced. Also first details of the plot were revealed. In late July 2013 Voice Actor Todd Haberkorn tweeted that Tenkai Knights will start its run on August 24, 2013. On August 10, a trailer was uploaded on the YouTube Channel of Tenkai Knights and zap2it listed the first episode at 7:30 AM. Five weeks after the American premiere licensemag.com revealed that Tenkai Knights will start its run in Japan in early 2014. In early December 2013 there was an article in which the Japanese broadcast was said to be in April 2014. On February 20, 2014 TV Tokyo announced that Tenkai Knights will start airing in Japan on April 05, 2014 at 9 AM (JST) taking over the timeslot of Shogakukan's Oha Coliseum and Robocar Poli.
Saving the world is serious business and should never be taken lightly. It is only for the brave of heart. Guren, Ceylan, Chooki, and Toxsa were not planning on being heroes when they accidentally stumbled into an inter-dimensional portal. Ripped through space and time, they reemerged on another world as Bravenwolf, Tributon, Lydendor, and Valorn… the legendary Tenkai Knights!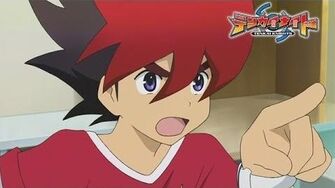 The credits at the end of every episode say that Tenkai Knights is named Tenkai Knights 1 Project in business relations. This suggests that later seasons are already planned and will also be produced if the first season is successful.
On January 21, 2014 the Official Twitter Account for Tenkai Knights responded to a fan question, that while this season goes up to 52 for the whole series they aim for 1000 episodes. This may be an early sign for at least a second season, which won't be impossible due to the good ratings Tenkai Knights has, constantly beating shows that show up to an hour later than it.
http://www.ltwmag.com/news/latest_news/new_tenkai_knights_to_air_on_cartoon_network.aspx
http://www.licensemag.com/license-global/spin-masters-tenkai-takeover
http://tbivision.com/features/2013/12/asias-super-heroes/194471/