The
Tenkai Dragon
(Japanese:
テンカイドラゴン
,
Tenkai Doragon
, Korean:
텐카이드래곤
,
Tenkai Deuraegon
, Hebrew:
דרקון הטנקאיי
) is a powerful creature that lived on
Quarton
. In the English version, it was summoned by
Vilius
to combat the
Corekai
. Unfortunately, it proved too powerful, and he lost control. It was later defeated by
the Tenkai Knights
, who caused it to shatter into the five
Dragon Cubes
, which were scattered across Quarton.
In the Japanese version, it was summoned by Quarton when the Corekai and Corrupted fought each other. The dragon attacked both sides, causing the Knights to be deactivated and Vilius to retreat.
Appearance
Light Tenkai Dragon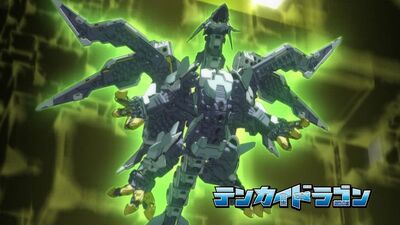 Dark Tenkai Dragon
Red with yellow spikes. Kind of resembles Titan Vilius.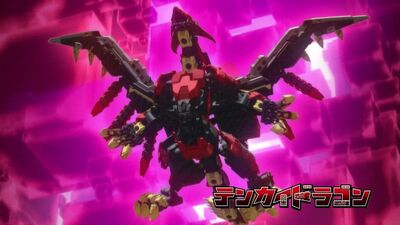 Personality
Abilities
Light Tenkai Dragon
Mouth Blasts
Invulnerability
Flight
Dark Tenkai Dragon
Mouth Blasts
Invulnerability
Flight
Reviving the Tenkai Dragon
In the order to awaken the Tenkai Dragon, the five Dragon Cubes must be combined, and one of the two keys must be used to unlock either the Dragon's light side or its dark side. The Tenkai Knights managed to find the White Key and unlock the Tenkai Dragon. However, it was captured by Dromus for Vilius.
In "A New Knight", the Tenkai Dragon was commanded to attack the Knights by Vilius until he was knocked off of the Dragon by Dromus. The Dragon was then trapped by the Guardians and Bravenwolf used the White Key to change it to its light side. He and Dromus used the two keys power, causing the Dragon to split into the fives Dragon Cubes. They went into their respective Knight, unlocking Phoenix Mode.
In "Vilius Returns", Vilius took the Tenkai Knights energy to reawaken the Dark Tenkai Dragon, without using the black key. Because of this, the Dragon was unstable. When Dromus came from the sky and attacked the Dragon, it split into black and white Dragon Cubes. The white cubes went into the Tenkai Knights and the black cubes went into Vilius, giving them elemental powers.
In "Dragon²", Vilius expelled his own Black Cube out of his body and from the four Guardians, summoning the Dark Dragon. As their only option, the Knights and Dromus expelled their White Cubes to summon the Light Dragon. When the two dragons fight each other with their ultimate attacks that almost destroyed the battlefield, the Tenkai Fortress sends everyone to an unknown place.
Gallery
Links