Tavox (Japanese: スペクトロス・グリーンウォーリアー, Supekutorosu Gurīn Wōriā, Spectros Green Warrior, Korean: 그린워리어, Geurin Worieo, Hebrew: טאבוקס) is a gray and green Corekai soldier.
Appearance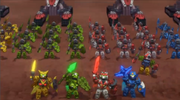 Personality
Powers and Abilities
Trivia
In the Series
A group of Tavox can first be seen in "The Rising Fire", where a bunch of them are being attacked by a Gearnox, but was quickly destroyed by Valorn.
Relationships
Beag
The Tenkai Knights
Gallery
Links
Ad blocker interference detected!
Wikia is a free-to-use site that makes money from advertising. We have a modified experience for viewers using ad blockers

Wikia is not accessible if you've made further modifications. Remove the custom ad blocker rule(s) and the page will load as expected.