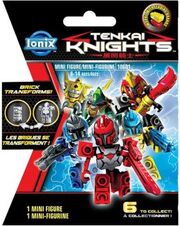 Mystery Packs (Japanese: ミステリパック, Misuteri Pakku, Korean: 랜덤 비닐팩 시리즈, Laendeom Binilpaeg Silijeu, Eng. Translated: Random Plastic Bag Series), also known as Blind Bags, are small plastic bags that contain Tenkai Knight mini figures, sold with 3 or 4 pieces per pack: a core brick, a helmet/head, and the other part vary, but all packs include a weapon, or a figure that is capable of turning it's own body into a weapon. These are currently released in the Western world and in Korea.
List of available figures
Official Description
Description
6 different figures to collect!
Features
3-6 Pieces

1 Shapeshifting Mini-Figure Brick
2-5 Additional Pieces

Instruction Guide
Gallery
Trivia
By owning all mystery figures (no duplicates), you could have a total of 65 pieces.

Series one=20 pieces
Series two=21 pieces
Series three=24 pieces
Internal Links